South Georgia Estate Planning, Probate, Real Estate, and Trademark Law.
With Clark & Bellamy, you will receive practical and value-based counsel. We offer the quality service you expect to receive from a top Estate Planning or Intellectual Property attorney. That's the Clark & Bellamy pledge. However, you'll feel like we're a good friend giving advice, who happens to have immense knowledge in our featured areas of law and the protection of individual and business assets.
---
Featured Practice Areas
Every individual needs a plan
Our legal team has years of experience in Estate Planning. Our job is to protect your personal property for you and your loved ones.
Every transaction needs a guide
If you buy or sell a home, we go above and beyond to ensure you are taken care of. Put your trust that we will deliver promptly at a fair cost.
Every business needs a brand
Every growing business builds value through a strong brand. Clients anywhere in the world can purchase our affordable, flat-fee packages.
Contact Us
Let's discuss your case. After receiving your information, we will direct your inquiry to the best attorney to handle your type of matter and follow up.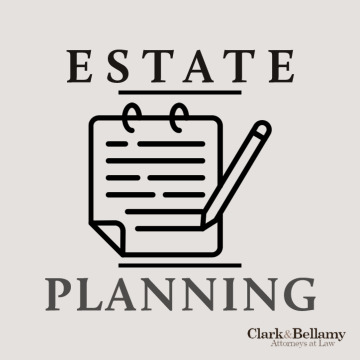 We create caring stories.
You build wealth for a lifetime. Now's the time to protect your work for yourself and the people you love. When you come to Clark & Bellamy to draft a will or plan your estate, we will:
Analyze – understand your story, how your assets are structured, and whether it's working for you.
Document – put the plan in place to ensure that if anything happens your money and your dreams are safe.
Administer – help your loved ones manage when you're gone through estate administration or probate.